Terrell, Texas, USA – Conecsus, LLC, an innovative environmental technology and recycling company, holds ISO 14001:2004 Certification, which provides practical tools for companies and organizations of all kinds looking to manage their environmental responsibilities. Conecsus has been certified to ISO 14001 since 2012.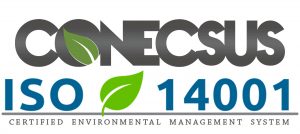 According to Marc Whitehead, Environmental Health & Safety Manager at Conecsus, "Using ISO 14001 provides assurance to our company's management and employees as well as external stakeholders that our environmental impact is being measured and continually improved. Being certified to ISO 14001 underscores Conecsus' ongoing dedication to environmental responsibility and our systematic approach to setting 'green' environmental objectives and targets."
There are more than 300,000 certifications to ISO 14001 in 171 countries around the world, and CONECSUS is one of them, he adds.
ISO 14001:2004 is a management tool enabling an organization of any size or type to identify and control the environmental impact of its activities, products or services, to continually improve its environmental performance, and to implement a systematic approach to setting, achieving, and verifying environmental objectives and targets. It provides assurance to management by controlling the organizational processes and activities having an impact on the environment.
About Conecsus
Founded in 1980, Conecsus, LLC is a sophisticated 'green' recycler and refiner of SMT solder/solder paste wastes and residues, as well as Tin, Tin-Zinc, Lead, Silver, Gold, and Copper from a variety of manufacturing industries. Located in Terrell, Texas, USA, Conecsus converts these wastes into usable metal products. Conecsus' mission is to provide innovative and high-quality industrial byproducts management, metal recovery, and recycling options that provide world-class value and service to our customers, and display respect and stewardship toward the environment. For more information, visit www.conecsusllc.com.